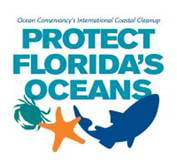 Broward County participates in the annual International Coastal Cleanup, sponsored by the Ocean
Conservancy. The Cleanup takes place in over 104 countries around the world and typically on the 3rd Saturday of September.
The next event is tentatively scheduled for Saturday, September 15, 2012, from 9 a.m. until noon. Please dress appropriately for the weather, either rain or shine, as we will only cancel the Cleanup due to a
tropical storm system resulting in a Watch or Warning.
Register!
To sign up for the Coastal Cleanup, go to Sign Up To CleanUp. Zoom in on the south Florida area and pick your location from the list on the left.
To participate, bring a hat, gloves, sunscreen and water to one of the cleanup site locations identified on the map below. Call 954-519-1270 for more information.
Below are tentative sites and sign-in/parking instructions for the 2011
Coastal Cleanup. Please check back before the Cleanup date for any updates or
changes.
A1. Deerfield Beach – Take Hillsboro Boulevard to A1A and
turn right (south). Turn left on S.E. 1st Street and park across the street from
the Fire Station. Sign in and pick up a parking pass at the chickee hut. Place
the parking pass on the dashboard of your vehicle for the duration of the
Cleanup.
A2. Deerfield Island Park– Take Hillsboro Boulevard
to Riverview Rd. and turn left (north). Volunteers can particpate either on
shore or by kayak/canoe, but must bring their own watercraft. A free shuttle to
the Park is available for those wishing to cleanup the shoreline and will run
from 9 am until 4 pm.
B. Pompano Beach – Park north of Atlantic Boulevard between
N. Riverside Drive and A1A. Sign in and pick up a parking pass at the Pavilion
south of the pier next to the playground. Place the parking pass on the
dashboard of your vehicle for the duration of the Cleanup.
C. Lauderdale-by-the-Sea – Sign in and pick up a parking
pass at East Commercial Boulevard at Anglin's Pier. Parking is at the
Bougainvilla Lot located north of Commerical Blvd. between Bougainvilla Dr. and
A1A.
D. Oakland Park Blvd. – Sign in at Earl Lifshey Ocean Park
located at the end of Oakland Park Blvd., east of A1A.
E. Hugh Taylor Birch State Park – When you arrive at the
gate, tell park personnel you are participating in the Coastal Cleanup. Sign in
near the tunnel entrance to the beach. Walk into the pavilion and the sign-in
table is to your right.
F. Fort Lauderdale Beach - Sign in at South Beach Park.
Parking passes are pending.
G. John U. Lloyd State Park – When you arrive at the gate,
tell park personnel you are participating in the Coastal Cleanup. Once in the
park, make your first left and sign in at the boat ramp.
H. Dania Beach – The Cleanup location is at the end of Dania
Beach Boulevard, where it intersects with A1A. Sign in and pick up a parking
pass at the Frank C. "Tootie" Adler Park pavilion. Place the parking pass on the
dashboard of your vehicle for the duration of the Cleanup.
I. Hollywood Beach North – When you arrive at the gate, tell
park personnel you are participating n the Coastal Cleanup. Sign in at North
Beach Park at the end of Sheridan Street.
J. Hollywood Beach Central – Park in the garage at the south
end of the Oceanwalk Mall, located at A1A and Hollywood Boulevard. Sign-in is at
the Oceanwalk Mall outdoor pavilion. Pick up a parking pass from the Site
Captain and give it to the attendant when you leave the garage. Parking fees
should be waived for the time of the Cleanup (9am until noon).
K. Hollywood Beach South – Sign in at Keating Park, Magnolia
Terrace and Surf Road. Parking passes will be available from the Site Captain,
once you sign in.
L. Hallandale Beach – Sign in at Hallandale Beach Boulevard
and A1A.
Previous Coastal Cleanup results for Broward County